Pupil Accounts
At Moorlands Primary School we use G Suite for Education - a set of education productivity tools from Google including Docs, Slides, Sites, Classroom and more, used by tens of millions of students and teachers around the world. Pupils may use G Suite for Education to engage with online learning material, complete assignments, communicate with their teachers, while expanding their 21st century digital skills.
Each pupil has a dedicated account (username and password) which they will use to access online learning materials.
Retrieve you child's account using the link below
Please note that all names must be entered with capitals letters at the front (eg. Fred, not fred, not FRED)

Please note the format of the date of birth field
Each pupil can retrieve their account details here
New Reception Year Joiners 2020 can retrieve their account details here
Please activate the account using the details provided in Step 1 by logging in to GSuite Classrooms
Please note : if you intend to use an iPhone or iPad you must download the iOS App (information here) and use that to access GSuite Classrooms.
If you experience any issues during this account activation stage - please check out the Moorlands Online Frequently Asked Questions page, which is full of steps to resolve the most common problems you might be experiencing.
If you still have problems with setting up your child's account, you can email accounts@parklaneprimary.school

Please state the child name and class on any email correspondence.

Please note : this email address can only offer support for account set-up, not general IT issues.

Please note : this email address should not be used for questions on schoolwork, please contact the relevant teacher instead

To access Park Lane Online services, please go to http://intranet.moorlandsprimary.school
You will need to login with the provided Moorlands Online credentials.
=================================================================
If you want to understand more about the use of G Suite for Education in Moorlands Primary School then please consult our School GSuite Policy.

IMPORTANT INFORMATION
G Suite for Education applications support a broad set of modern device types. These include :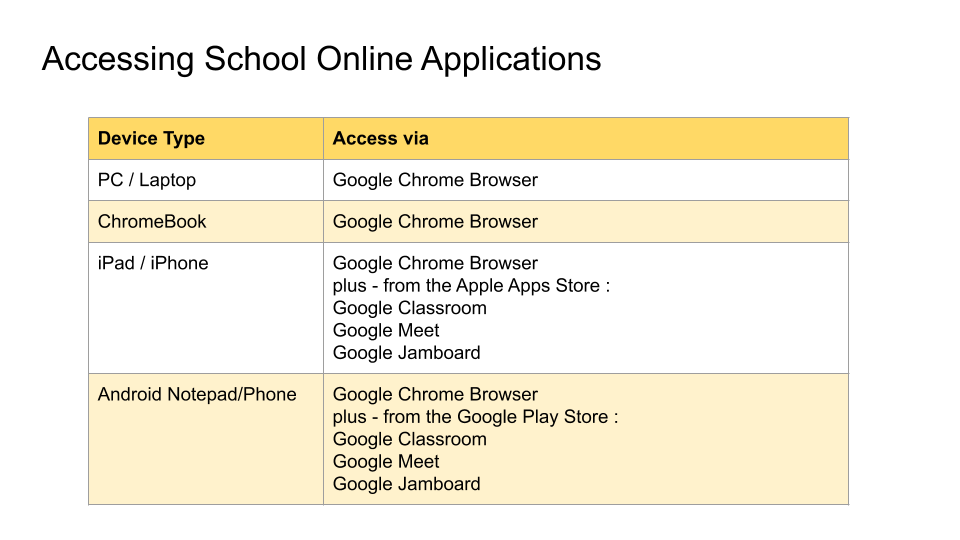 To use G Suite for Education, please make sure you have enabled cookies and JavaScript® in your browser. In most browsers this is the default situation.


For the best online educational experience we recommend
pupils use a Laptop or Chromebook